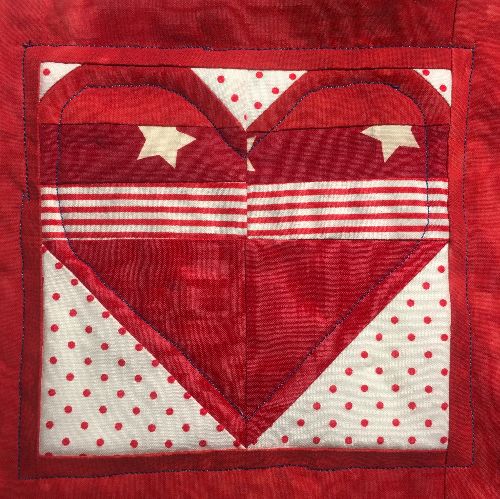 Dear Artist Friends,
Big Brothers Big Sisters invites you to participate in our annual Have a HeART fundraiser. Please join us in celebrating our 9th year of this event!
Area artists are encouraged to donate works of "heArt" for our silent auction benefit at the Upstairs Artspace January 11-25, 2020, with submissions due by January 6. Please note the earlier opening and closing dates scheduled by the Upstairs exhibits committee so you can plan to get started soon on your ideas and projects!
To keep our collectors and supporters interested, please consider innovative approaches to your artwork, creating in any media in ways that will visually represent the universal symbol of love. We will have more exhibit space this year so feel free to stretch your usual boundaries for this project.
There will be only a limited number of bisque ceramic hearts available, no more than one per artist. If you want a blank ceramic heart, please let us know your preference asap (flat or puff in bisque or leatherhard). Blank hearts will be distributed at Tyron Town Hall, at Random Arts in Saluda, or through contact info below. Ceramic artists are encouraged to create your own unique clay form.
We suggest artists submit 1-2 pieces, including no more than one of the premade ceramic heart forms.
The completed artwork should be returned to Big Brothers Big Sisters by Monday, January 6 for set-up on January 7.  Hearts may be turned in at Random Arts in Saluda, Tryon Town Hall, or call to arrange pickup. It's possible that pieces arriving after the deadline may not be displayed.
Please include a tag with your name, address, email, phone #, title of piece and materials used. You may suggest a reasonable minimum bid price (bearing in mind that this is a charity fundraiser and suggested opening bids may be adjusted accordingly.)
The opening reception will be on January 11th, 5-7 pm at the Upstairs Artspace in Tryon.
Silent auction bidding will continue during gallery hours, Tuesday – Saturday, through the closing bids reception on January 25th– in plenty of time for Valentine's Day!
This unique project offers area artists a meaningful and creative way to support a local charity that serves children in our community and inspires potential and positive growth. You will warm our hearts by offering your artistic talent to help Big Brothers Big Sisters bring more grace into the lives of our Littles and Bigs!

All pieces donated will be used only to raise funds for BBBS. If you have any questions please get in touch, and feel free to share this invitation with your artist friends. We are very grateful for your help and can hardly wait to see your creations!
Thank you, Karen Dacey
Council Members: Sharol Ard, Lynn Costine, Carolyn Gibson, Audrey Kendrick, Susie Kocher, Lee Morgan, Jane Ollis, Reen Smith, Patty Slater and Chris Tinkler

Big Brothers Big Sisters
301 N Trade St, Tryon, NC 28782
P: (828) 859-9230 F: 859-5364